Are you ready to renovate your space? Whether it's a simple change like new flooring or a big change like a whole kitchen remodel, we've got you covered. A Home Equity Line of Credit from Robins Financial Credit Union can give you the peace of mind to get those projects checked off your list.
Benefits of a Home Equity Line of Credit:
No Closing Costs**
Credit Limits up to $150,000
Access funds with a Visa®Card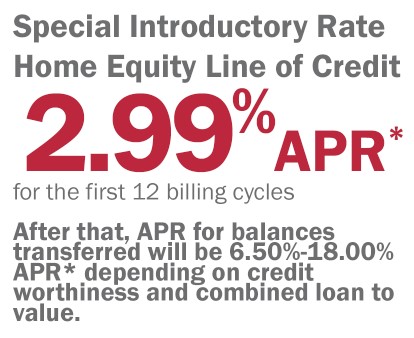 Currently Robins Financial Credit Union is offering a special introductory rate on a home equity line of credit at 2.99% APR* for 12 months.
Don't wait! Apply online or make an appointment to visit any of our branch locations for more information.
*Annual Percentage Rate. This offer applies to new equity lines of credit only. All transactions must be completed by March 31, 2023. The 2.99% APR is guaranteed for 12 billing cycles at the time of closing and is variable thereafter. The APR is a variable rate based on the prime rate as published in the Wall Street Journal plus or minus a margin with a minimum APR of 6.50%. The margin is based on the applicant's credit history and combined loan to value. The maximum APR that can be imposed is 18.00%. The current variable APR as of 1/1/23 is 6.50%. Some restrictions apply. **Initial advance of $5,000 needed for no closing costs offer. Terms and conditions apply; subject to credit approval. Limited time offer.