Do you need help covering travel fees to get home for the holidays or even purchase last minute gifts to complete your shopping list? Allow us to partake in your family's traditions and celebrations, without the financial strain on your budget. Apply today to start making those plans to spread some cheer, with a Holiday Loan this year.
Holiday Loan Features:
Borrow up to $2,000
Terms up to 12 months
Special Interest Rate as low as 7.00% APR*
Easy to Apply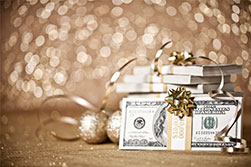 *Annual percentage rate Terms and conditions apply; subject to credit approval. Loan terms up to 12 months. Maximum loan amount is $2,000.00. Must have Robins Financial deposit account. Rates are based on credit worthiness, so your rate may differ. Holiday loan rates range from 7.00% to 15.00% APR. Payment example: Holiday loan of $2,000 for 12 months at 7.00% APR will have a monthly payment of $173 and finance charge of $77. Only one holiday loan per member at one time. Contact credit union for membership details. Federally insured by NCUA.