Now is the time to refinance your car loan and save! If you have your auto loan at another financial institution and refinance to Robins Financial we could cut your current interest rate by as much as 2%. That lower monthly car payment can help make room in your budget for the rising prices at the gas station and the grocery store. Not only that, but when you refinance, you won't have to make a payment for 90 days!** 
Here's a sample break down of the savings you could see on a typical car loan: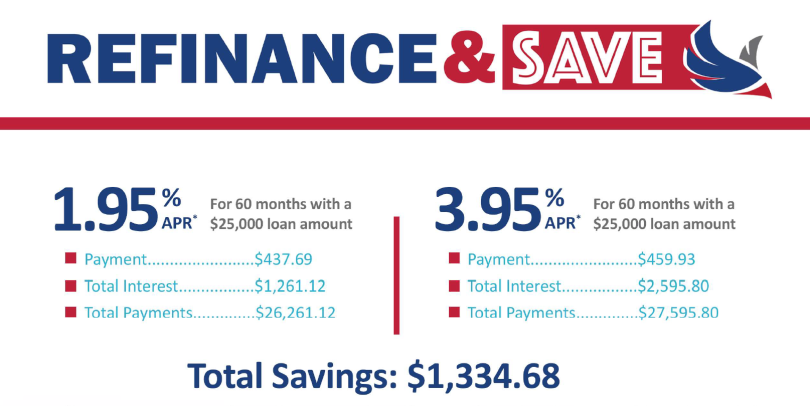 That's a total savings of $1,334.68. 
Still thinking? Here are a few reasons to refinance:
Cut your current rate by 2%

Lower your monthly payment

Enjoy 90 days with NO loan payment**

Convenient payment options
We understand that our members are looking for ways to stretch your budget further right now. We're here to help.
*Annual percentage rate. Terms and conditions apply. The rate you qualify to receive may vary depending on individual credit history. Maximum APR that can apply is 16.50%. This program does not apply to existing Robins Financial Credit Union loans. **Interest accrues from date of loan disbursement. Offer good on 2015 - current year models. Minimum loan amount for this offer is $5,000. Contact the credit union for membership details. Federally insured by NCUA.