How to Avoid Travel Scams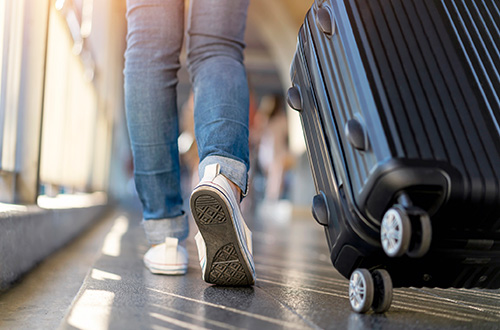 With summer time approaching and most schools wrapping up for the year, now is usually a popular time for vacations, road trips, and other fun adventures. Although your summer plans may have been impacted by the current pandemic, if you're still planning on traveling, even locally, it's important to stay aware to protect yourself and your family from scams.
As you prepare to go on vacation, you remember to pack essential items like clothing, toiletries, and even sunscreen to protect your skin, but do you take the steps to protect your identity while traveling? Travel brings new and exciting adventures, but that excitement can quickly fade if you happen to fall for a travel scam. It's human nature to think that we know better and can outsmart scammers, but unfortunately it can happen to the best of us. From overcharging taxi cabs to fraudulent Wi-Fi networks, scammers exist all over the globe. You are also more vulnerable to identity theft when traveling, since you may be carrying more sensitive documents with you than what you normally carry, such as your passport or other valuables. The threat of having your personal information captured or compromised doesn't have to ruin your vacation, as long as you take precautionary steps to minimize your risk.
Here are some simple tips for keeping your information safe while you're traveling:
Keep Your Mail Safe
Depending on how long you'll be gone, arrange for the post office to hold your mail or have a friend or family member pick it up for you while you're gone. You receive many sensitive documents through the mail such as bills and account statements that include names and account information, and you don't want these to end up in a thief's hands.
Contact Your Financial Institutions
Your card activity is monitored 24 hours a day and any irregular charges outside your local area may be declined. Contacting your financial institutions to let them know where you are traveling to and how long you will be gone can prevent your cards from being triggered and unnecessarily frozen.
Clean Out Your Wallet
Limit the number of documents you travel with to only those you need. Make sure to leave any unnecessary IDs or account cards safely locked up at home, especially your Social Security card or anything containing your SSN. Make sure you don't have the PIN for any of your cards hidden somewhere in your wallet, as this would give a thief easy access to use your card as they please. Your PIN number should never be kept near your card, not just when you travel, but any time.
Hide the Items You Have to Carry
Avoid keeping your wallet and personal documents in an exposed pocket or bag. Instead, use a hidden pouch or concealed pocket against your body so you can keep it secure. When you arrive at your destination, take any identification not needed while exploring or working and store it somewhere safe. If you are staying in a hotel and have an in-room safe, take full advantage of it to store your belongings. If you aren't staying at a hotel or it doesn't have a safe in your room, consider purchasing a portable safe to bring with you when you travel. It's recommended to store at least one card and some cash in a separate location from the rest. This way, in the unfortunate event that your wallet or purse is stolen, you still have backup cards and cash so you aren't left stranded with no funds.
Protect your Phone
Phones are a huge target for scammers and identity thieves. Keep your phone in your possession at all times and make sure you have it set to a secure auto-lock setting. Protect any accounts you access from your phone (financial accounts, social media, email, and any apps that have personal or payment information stored) with complex, secure passwords: no birthdays or pet's names! Consider disabling automatic logins while you're traveling and resetting them once you're safely back at home. Utilize biometrics such as fingerprint scanning or facial recognition if your phone supports these features to ensure that you are the only person who will be able to access your device. Additionally, make sure you keep your phone's GPS and location services turned on, so can use a "find my phone" app to locate your device in case it gets lost or stolen.
Avoid Public Wi-Fi Networks
Many people use these Wi-Fi networks because they're easy to access and usually free, but identity thieves can access those networks and steal your information. Be sure not to access any important sites that have your personal information like financial accounts and health records. Save that for a secure network.
Create Alerts
Staying on top of your financial accounts while traveling allows you to easily detect any fraudulent activity right away, rather than not noticing until days or weeks after you've returned home. Our free Card Guard app lets you control and remotely manage all aspects of your Robins Financial debit and credit cards. You can set alerts based on transaction type or amount, including ATM transactions, international use, gas station transaction, or if the card is declined. You can also set up e-Alerts in Digital Banking to be notified of account activity including debit card purchases, withdrawals, low balance, or insufficient funds. You can even set a daily alert to notify you of your account balance so you always know what's in your account. If you no longer wish to receive these alerts after you return, you can disable them just as easily as you set them up.
Monitor Your Accounts
Even if you set up alerts and regularly review your account activity while traveling, remember to keep close track of your financial accounts as well as email and social media once you return home. Review your account activity and statements regularly to quickly detect and thwart any lingering threats to your identity. Robins Financial's convenient and secure Digital Banking allows you to access your account anytime, anywhere.
Following these tips will help you keep your accounts and your identity safe and protected, no matter where you go. In the unfortunate event of any suspicious activity, you will be able to detect and resolve it right away. That way, you can spend your travel free from the stress of scams and simply relax and enjoy your time away.
At Robins Financial, the safety and security of our members is a top priority. Keeping your accounts protected is even easier when we work together, which is why it's so important to be vigilant with protecting your information. Review our Security and Fraud information for more tips, and watch our Scams and Fraud playlist on YouTube. To learn more about how we protect our members every day and how you can protect yourself, give us a call or stop by any of our branch locations.