How to Save on College Tuition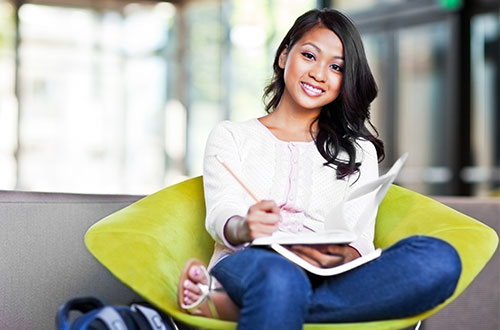 It's no secret that paying for higher education is expensive, and figuring out how to afford it can be difficult. Many students find themselves graduating with seemingly insurmountable student loan debt. Approximately 4 in 10 college students will have to take out loans in order to pay for school. Upon graduation, the average student loan borrower has nearly $38,000 in student loan debt to repay.
However, there are several ways to reduce and possibly even eliminate the costs of tuition. By developing a cost-effective payment strategy and creating a game plan for how to efficiently tackle your courses and your finances, you will be able to avoid most of the headache associated with paying for college.
Dual Enroll
Many high schools have dual-enrollment programs that allow you to take some introductory level college courses while still in high school. This can also help give you a "sneak peek" of what your college workload will be like. If your school doesn't offer a dual-enrollment program, or if you think it may not be the right choice for you, consider taking advanced placement courses. If you score well enough on the AP Test, many colleges will accept that test grade as credit for the course, so you won't have to take those same courses again in college.
Core First
Take your core classes first at a more affordable institution, such as a local community college. Then, you can transfer to your school of choice once you are able to start taking your major-specific courses and complete the rest of your degree requirements. This will help you save money on the basic introductory classes and reduce your overall tuition costs. If you're already in college, find out if your school or another local college or university offers classes during the summer at reduced tuition. This could help you save money and could even help you get ahead in your degree track.
Test Out
Some colleges and universities allow you to challenge for credits, and you will be able to skip a course altogether if you excel in a test to demonstrate that you are proficient in the subject matter. Check with the school you plan to attend to see if this option would be available to you, and what the qualifications are.
Geography Check
Location can play a major role when it comes to the total price tag of tuition costs. Most often, attending an in-state college or university is significantly more affordable than going out-of-state or international. And it's not just tuition that's more expensive when studying afar, the costs of meal plans as well as room and board are sometimes elevated for out-of-state students, not to mention the travel costs. It's important to understand how big of an impact the location of your school of choice will have on your bottom line.
Fast Track
Some schools offer accelerated programs that enable student to complete their degree requirements ahead of the "normal" schedule, for example you could earn your four-year degree in three years. While that is one less year of tuition and other associated costs, it will take extreme dedication to squeeze more classes into a shorter period of time. With a more intensive schedule, it might make it more difficult to accommodate having a part-time job while in school. Additionally, schools often have a limit on the number of credit hours you are able to take within one semester, and you may have to petition the university if you want to exceed that limit. Weigh your options carefully before committing to a more ambitious schedule, and take care not to overexert yourself.
Once you have determined which of the above solutions are applicable to help you reduce the costs of tuition, next you will need to determine how you will pay for the remaining costs.
The smartest way to finance your education is by using free money, your money, and borrowed money, in that order.
Free Money
Scholarships are one of the best ways to reduce tuition costs. You don't have to be top of the class or a star player to be eligible, there's a wide range of scholarship opportunities available, and it's never too early to start your search. Your high school's guidance counselor or financial aid office at the college you wish attend are great places to start. Free money can come from a variety of sources, including government agencies, non-profit organizations or private companies. Your employer or your parents' employers may offer funding opportunities. There are a variety of professional associations, service clubs and more that may offer grants or subsidies. Your financial institution may even offer a scholarship or other student programs. Check online for additional resources and scholarship search engines. It may take some time, but it's worth it to apply for every scholarship you are eligible for. Even small scholarships will add up, especially since they don't tend to attract as many applicants, thus increasing your chances of winning. It's free money, and it's yours for the taking as long as you apply.
Your Money
A college fund with money saved up for tuition costs is one option for funding Another option is saving up money from a part-time job, or applying for a work-study program at your college or university. Try to find a job that is conveniently located to campus, or even on campus, that fits in nicely around your class schedule so you avoid burnout. You may even be able to find a wok-study program within your field of study so that you are able to gain valuable skills and experience. Earning money while you study will help you pay as you go and will help keep your tuition costs from piling up, reducing your need for student loans. Some schools even offer tuition installment plans, so you won't have to pay the full amount of tuition in one lump sum. Splitting your tuition into multiple payments may help make it more affordable. Check with your financial aid office to see what options your school has available.
Borrowed Money
If you will need student loans to finance your education, minimize the amount you borrow by borrowing only what you need. This applies to all loan products. For the amount that you do borrow, it is essential to spend that money wisely. Student loans are not intended to finance the lifestyle of your dreams; otherwise you would max out your credit. Maintain your living expenses at a reasonable level, and only borrow what you need.
Better Banking means providing the knowledge you need to succeed. Robins Financial Credit Union values education, and understands its importance when it comes to achieving success. We offer Money Smart Programs, including our annual Scholarship as well as Good Grades Program, to reward students for academic excellence and help our members afford education. To learn more about the ways we support our members in their pursuit of education, give us a call, or stop by your local branch.