How to Start Saving for Your Children's College Fund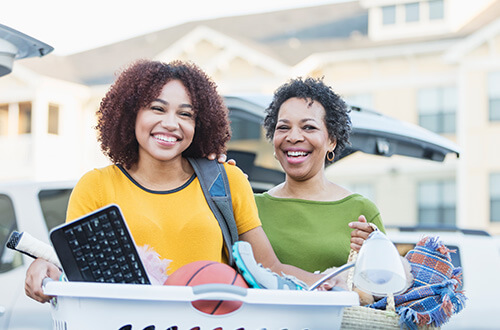 As a parent, one thing that is always looming in the background is your children's education. Of course you want the best for your children – to send them to good schools; to make sure they get a great education. But you're constantly hearing that the costs of college are continuing to rise higher and higher. Not to mention that you're also trying to save for your own retirement and every day expenses. So how do you make it all work?
Start Small. Start Early.
Too often we look at which investments will give us the best return. But the most important aspect when saving is actually saving. The act of saving; putting money aside each month and not touching it, is what really matters. Once you become accustomed to saving, the balance will grow on its own. For example, when your child is born, if you put aside just $100 each month until they are ready for college, the balance would be over $21,000 by the time they turn 18. And that doesn't even include any interest you'll be earning!
Now assume instead of starting early and saving $100 per month, you wait until your child enters high school to start putting money aside for high school. You now have only four years to save for their college fund. In order to reach the same $21,000 in the previous example, you would have to save over $5,000 per year!
Gradually Increase Deposits
If you currently save $100 per month or some other amount for your child's college expenses, that doesn't mean you have to stick with that same amount the whole time. If your financial situation improves and you find you have more money to save than before, you can gradually increase that monthly deposit to your child's college fund. Before you know it, you could be depositing $150, $250 or even more each month! Every bit adds up; and remember, the important thing is to start small and start early.
Outside Contributions
There is no rule that says college expenses all have to come from one source. In fact, it's become more and more common for family members to help contribute to college funds. For your child's birthday or holidays, consider including donations to their college fund on their wish list. One great way this can be done is by opening or adding to an existing certificate account. We offer several different certificate accounts and other savings options, some with an opening deposit as little as $100. Certificate accounts have higher dividends than regular savings accounts, so the funds will grow even faster. Every penny saved counts!
Apply for Scholarships
Academic-based scholarships and scholarships for playing sports are just the tip of the scholarship iceberg. There are countless other opportunities available that your child may be eligible for. From state and local scholarships like the HOPE scholarship for Georgia students, to essay or project-based scholarships, the possibilities are endless. Have your child ask their school's guidance counselor for a full list of scholarships, or search online, and you may be surprised what you find!
Did you know that Robins Financial Credit Union has a scholarship program? Our one-time, $2,000 scholarship is offered to high school students who plan to attend college or university in the State of Georgia next year. If your child has an existing Robins Financial account, they can apply today!
Get the Right Help!
There are so many options when it comes to saving for college expenses. But which option is the right one for you? Does it make a difference if your child is still a toddler or if they are already in middle school?
That's why you have Robins Financial. Not only do we have a full line of savings options available to you, our staff is ready to help you make the right financial decisions. Working with you one-on-one, we'll help find the plan and options that work for you and your specific needs. To learn more about how we can help you, give us a call or stop by any of our branch locations.