New Beverly Knight Olson Children's Hospital Facility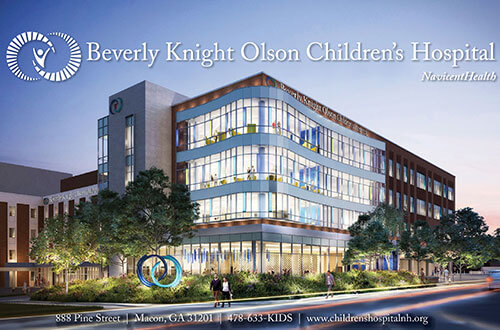 Since 1987, The Children's Hospital has been a place where broken bones are healed, premature babies are cared for and sent home with their families, and cancer patients celebrate remission. A place where no child is turned away, regardless of the family's ability to pay. For every patient treated, this hospital provides the hope for a healthy future.
Beverly Knight Olson Children's Hospital, Navicent Health, located in Macon, Georgia is the only dedicated pediatric hospital in central and south Georgia. Infants, children and teens have access to the clinical expertise and compassionate personalized attention they need in order to grow and thrive.
As a regional referral hospital, they provide the highest quality, personalized, child-friendly, and cost efficient pediatric care to more than 45,000 patients annually. While the majority of their patients experience severe and complex health conditions, they also offer preventative and primary care services and programs to ensure every child is given the opportunity to grow up to become a healthy adult.
The new Beverly Knight Olson Children's Hospital, Navicent Health houses all pediatric services under one roof. In this new modern and technologically advanced environment, pediatric patients have access to:
A pediatric emergency room, equipped with an observation unit
A pediatric surgical center, equipped with robotics and a spinal navigation system
A pediatric radiology and imaging center
Neonatal Intensive Care Unit
Complete renovation of the General Pediatric and Pediatric Critical Care Units
A Café, Gift Shop and Chapel
Together, we can all build on the legacy of exceptional pediatric care that the children of central and south Georgia have known and trusted for thirty years.
Robins Financial Credit Union has partnered with the Children's Miracle Network to raise money during a 6-week campaign that we are calling Miracle May. Help us reach our $30,000 fundraising goal to help local children receive life-saving treatments.
To make a donation, stop by any of our branches or call our Call Center. Branches will also host special fundraising events every Friday during the campaign. Help us create more miracles for children in our community through Children's Miracle Network.