The Process to Refinance Your Auto Loan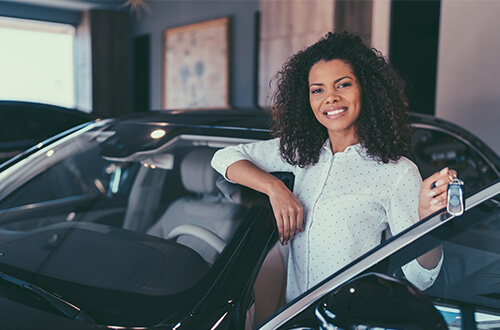 Have you ever wished you could get a do-over on your auto loan? You can! Well, sort of. You've probably heard of refinancing a mortgage before, but did you know you can also refinance your auto loan? In fact, it can be even simpler and more straightforward than refinancing a mortgage.
When you refinance your auto loan, you're applying for a new loan with a new lender to pay off the balance of your existing auto loan. It's a similar concept to a credit card balance transfer. If your financial situation has recently changed, if your monthly payments have become unaffordable, or if you're hoping to qualify for a better interest rate, an auto loan refinance could be the right choice for you.
If you're considering refinancing your auto loan, it's best to familiarize yourself with each step of the process so you can know what to expect:
Understand Refinancing
As with any financial decision-making, the first step should be ensuring you have a good understanding of what the process entails, what the associated risks and benefits are, and the effects it can have on your overall financial picture.
Refinancing your existing loan has advantages such as lowering your monthly payment or reducing your interest rate, thus saving you more money throughout the duration of the loan. An additional benefit of refinancing is that it could take you less time to repay the loan. Conversely, you could also extend the life of the loan when you refinance to help make your payments more affordable. Once you start looking at refinance options, consider the specifics of each loan to find more favorable terms that will fit into your long-term financial plan.
Gather Your Documents
When you apply for a new loan, lenders will need to know about your vehicle as well as your current loan. You'll want to review this information and have it ready so you can answer any questions. The information to have handy will include:
A copy of your current loan papers. This should include your current interest rate, monthly payment, and the remaining balance of the loan.
Your vehicle information, including the year, make, model, current mileage, and Vehicle Identification Number (VIN).
Your driver's license.
Your Social Security Number.
Proof of income. Lenders want to be able to verify that you have the funds needed to pay off your new loan.
The customer service number of your current lender, in case you or potential new lenders have additional questions about the loan.
Review Current Loan Terms
Before applying for a new loan, make sure you know where you stand with your current loan. Do you know your current interest rate? How many monthly payments do you have remaining? What is your current payoff amount – meaning, what would you pay your lender if you paid off the full remaining loan amount today? Does your current loan have any pre-payment penalties for paying the loan off early? These are all things you want to familiarize yourself with before applying for a new loan, so you can make sure your new loan will have more favorable terms that your current loan once you refinance.
Determine if Your Car Qualifies
Each lender will have their own set of requirements to qualify for a refinance. Possible restrictions can include:
The amount left on the loan – If you only owe a few thousand dollars, it likely wouldn't be worth it to transfer your loan to a new lender if you'll have it paid off soon.
Vehicle year – Depending on how old your vehicle is, it may not qualify for refinancing. Check with different lenders to see what their model year limitations are.
Mileage – Some financial institutions set a maximum value for mileage and won't refinance a vehicle that has surpassed that value.
Evaluate Credit History
Your credit is an important factor any time you apply for a loan, so it's important to review your credit report to make sure there are no errors that could disrupt the refinance process. If you do find errors on your credit report, you'll want to get those straightened out as soon as possible to avoid any complications when it's time to refinance your loan. Make sure that all of the accounts on your credit report are showing correctly, and if any show late payments, you'll want to get those taken care of right away.
Compare Rates
Contact different lenders and financial institutions in your area that service auto loans. Ask them what their current interest rates are. When you contact different lenders, you'll want to make sure you're asking about rates at pretty much the same time. Rates can vary daily, so if you wait weeks between reaching out to different lenders, any disparities in rates could be the result of recent fluctuations in the market, rather than differences between what each lender is currently offering.
Your local credit union is a great option to consider when looking to refinance. Credit unions tend to offer lower rates than other financial institutions, and they're often more flexible about loan size and credit issues than bigger banks.
Apply for Loan
Once you've gathered rate information from different lenders and have narrowed down your choices, submit your applications. Many lenders will be able to give you an answer that same day, others may take up to a few business days to review your application. There typically isn't an extensive waiting process associated with refinancing an auto loan.
Keep in mind that inquiries into your credit will make your credit score drop slightly, so you'll want to submit all of your applications as close together as possible – within a couple of weeks to a month of each other. This way your credit score will essentially only take one small hit.
Evaluate Loan Terms and Crunch Numbers
Once you've gotten responses to your loan applications, take the time to review your paperwork and compare the different offers. Use an Auto Loan Calculator to project how each loan will work out in the long run based on interest rate, length of the loan, etc. Consider any fees such as title transfer fees, re-registration fees or processing fees. Check to see if the loan has an early payoff penalty. Be sure to check the fine print for any additional terms.
Finalize Your Loan
That's it! Finalizing your loan is, you guessed it, the final step of the refinancing process. After that you're all done! Your new lender will then send a check to pay off the loan to your former lender, and your former lender will transfer your vehicle's title to your new lender.
Are you considering refinancing your auto loan? Refinance and save with Robins Financial to drive home your savings. To find out how much you could save, give us a call or stop by one of our convenient branch locations. If you're ready to refinance, you can apply online today.