Manage Your Credit Card Better This Year with a Balance Transfer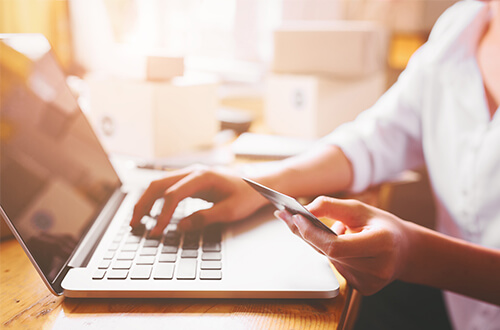 The holiday season is a time for joy and celebration. With festivities like gifting, traveling to enjoy time with family, countless meals and gatherings, not to mention all those holiday and year-end sales, it's easy to get carried away with your spending! If your finances are still recovering from the spending overload, consider applying for a balance transfer as you enter into the New Year. Even if you managed your money well during the holidays, you could still benefit from a balance transfer to get ahead of the financial management game in 2020!
A balance transfer allows you to use a new credit card to pay off your existing balances on the old one at a more manageable interest rate. If you have balances on multiple cards, transferring them all to one card will allow you to consolidate to one easy payment and simplify your monthly bills. Therefore, transferring your current credit card balances to a new card with a lower interest rate could be your saving grace to getting (and staying!) out of debt. You'll be conquering your New Year's resolution in no time!
Some credit cards even offer a lower introductory rate on balance transfers made during a special promotional offer. But you want to try to get your balance paid off before the introductory period ends and your interest rate goes up. After all, the main purpose of a balance transfer is to help make it easier to pay off your debt.
Here are a few things to consider if a balance transfer seems like the right choice for you:
Balance Transfer Fee
Finding a credit card with no additional fee for balance transfers is ideal, so make sure you do your research when shopping for cards so you can be sure you choose the right one. Our Robins Financial Credit Union Visa® Platinum Rewards Credit Card has no balance transfer fee.
Annual Fee
Again, a credit card with no annual fees is best for a balance transfer. Annual fees can really hold you back! Our Robins Financial Credit Union Visa® Platinum Rewards Credit Card has no annual fee. No additional fees means you save even more.
Interest Rate
The lower the interest rate, the more you save by transferring your balances. You can either pocket the extra cash, or increase the amount of your monthly credit card payments to help bring your debt down even faster.
Taking advantage of a special promotional offer with a limited-time lower interest rate is great, but be sure to pay careful attention to what the interest rate will increase to when the promotional period is over. Some credit card companies shoot the interest rate up drastically, so you'll want to make sure you get your balances paid off before the interest rate increases.
Have a Plan
The most important thing when considering a balance transfer is to make a plan! Balance transfers offer an excellent opportunity to combine your credit card debt from the holidays and pay it back at a much lower interest rate. It's important to take the time to crunch some numbers so you can make sure a balance transfer is right for you.
Carefully review your credit card agreement to know exactly how much you're approved for, and ask questions if there's anything you need to clarify. And remember to monitor your existing accounts until the balance transfer is finalized. If you have a bill due on your current cards before your balances have transferred, you still have to pay it by the due date. Sit down and make a schedule to stay on top of things!
Make sure you include monthly credit card payments in your budget. Pay as much as you can afford each month so you get your debt paid off before the introductory interest rate expires. Even if you can't pay the debt in full in that time, as long as your new card has a lower interest rate than your original debt, you are still saving money and making major progress in your debt repayment. Continue to pay at least your minimum payments each month if you can't afford to pay down your balance before the interest rate increases. You will have to pay additional fees if you miss any payments or make late payments, and extra fees mean more time until your debt is paid off.
And remember – credit card companies are aware of excessive spending during the holidays, and bombard customers with countless "offers" and "deals." Always read the fine print on any offer to make sure you're really getting the best deal. Our Robins Financial Credit Union Visa® Platinum Rewards Credit Card is made to work for you.
Our Robins Financial Credit Union Visa® Platinum Rewards Credit Card gives you premium purchasing power with no balance transfer fee or annual fee, and we offer convenient payment options to help make your life easier.
If you're considering a balance transfers, check out our Credit Card Payoff Calculator.
If you're ready to make the transfer, you can apply online today, over the phone or by visiting any of our branch locations and start taking control of your credit card debt.
Terms and conditions apply. Subject to credit approval. Visit robinsfcu.org for additional information.