On behalf of Robins Financial Credit Union, we would like to thank you for choosing us for your financial needs. 

Your credit union is a member-owned, not-for-profit, full-service, financial alternative to traditional banks. Our primary goal is to provide you with excellent member service, lower interest rates on loans and higher rates on deposits. We also provide you with convenient access to your account anytime, anywhere with our free digital services.
Your debit card has been ordered and should arrive within the next 7-14 days in a plain white envelope. The PIN will be delivered separately within 5 days of the card. You may change the PIN by calling our automated system at (478) 923-3773 or (800) 241-2405 ext. 1102. (You will need the mailed PIN and the full card number in order to change the PIN over the phone). You may also stop by any branch location to change the PIN.
If you have any questions or concerns, please feel free to stop by any of our branch locations or give us a call at 478-923-3773 or toll free at 800-241-2405 to speak with a Service Agent during normal business hours.
Thank you for choosing Robins Financial Credit Union. We look forward to serving you and your family for years to come.
Follow these steps to make the most of your banking experience with us.

Download the Digital Banking app in the App Store or Google Play to enjoy the convenience of accessing your account anytime, anywhere.
Login to Digital Banking online or select "Enroll Now" in the app.
Activate e-Statements in Digital Banking for a simple and fast way to review your statements.
Establish transfers within your account, to another member's account, or even to accounts at a different financial institution.
Pay your bills online with free Bill Pay.
Activate e-Alerts to send you alerts via email or text for information such as current balance, withdrawals, and direct deposits.
Set up Money Manager to set your budget, savings goals, track bills and more.
Install Robins Financial Card Guard app to manage your cards wherever you go.
Set up Direct Deposit by accessing your Direct Deposit Form in Digital Banking online or in the app. Follow the step by step instructions in our Digital Banking User Guide.
Schedule appointments online any time we can be of service. Simply use our appointment feature online to receive a phone call or request a branch appointment so that we can assist you with your needs.
Follow us on all of our social media channels to access free financial education:
Here are all of the ways you are able to access the various functions of your account.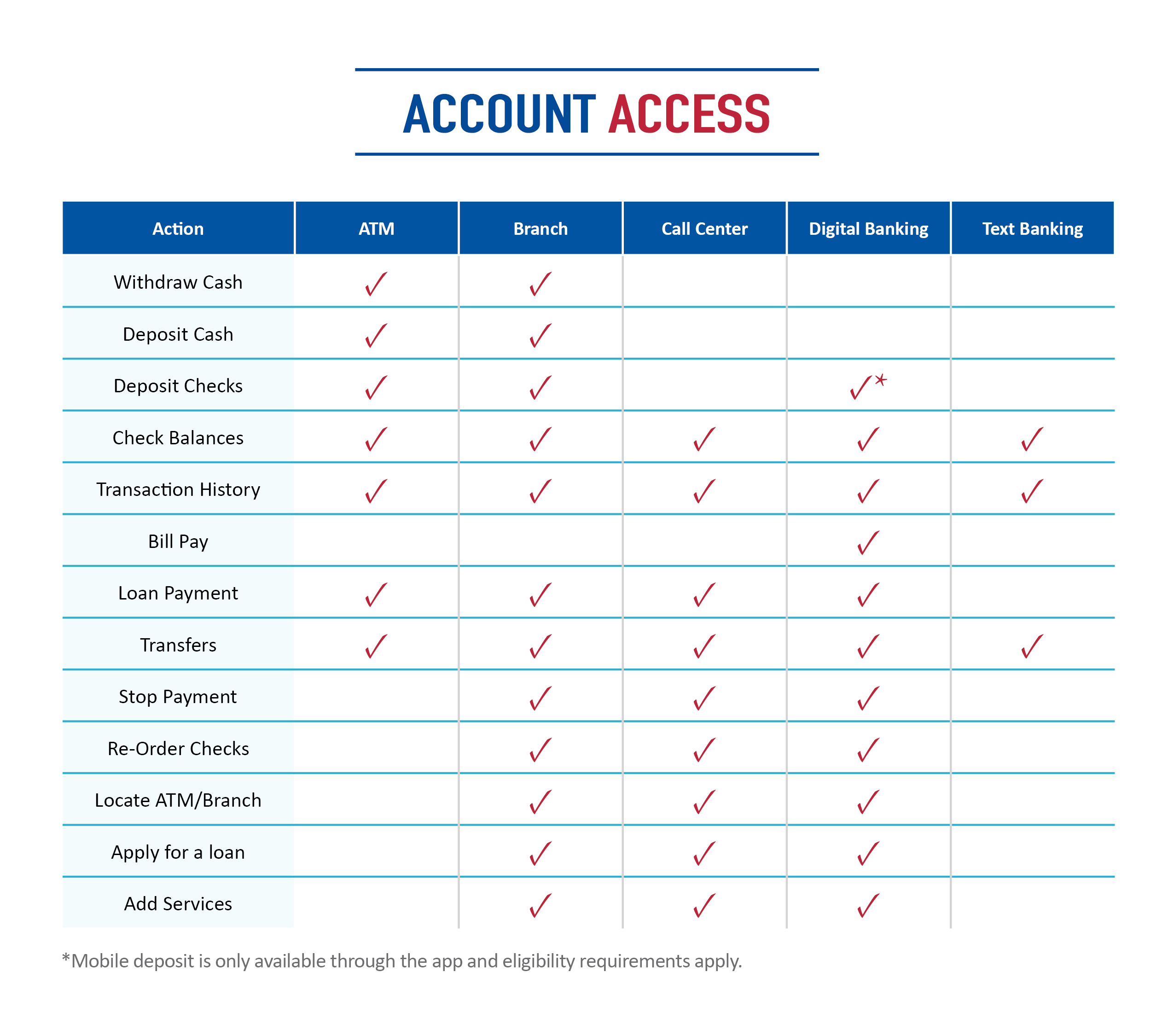 Here is a list of the various digital tools available to you.

Digital Banking
Access your account 24 hours a day. Check your balances, view transaction history, transfer funds, set up external funds transfers, make payments, open accounts, apply for loans, and more! Plus, the experience is the same whether you're logging in from a PC, tablet, or phone.
How to sign up for digital banking:
Select Enroll Now in the app or online at robinsfcu.org
Follow the steps to complete the New User enrollment and verification
That's it! If at any time you forget your Digital Banking password, use the Forgot Password link to reset it
Learn more about our digital banking through the use of our video tutorials under the tutorials tab on our digital banking page.
Robins Financial Card Guard
This app puts you in control of the security of your Robins Financial credit and debit cards. With Robins Financial Card Guard, you have the ability to turn your cards on and off as well as set and manage alerts.
Digital Banking User Guide
This guide is a great tool for those just getting started to use our digital services, or for those looking to learn more about a specific feature. You will find step-by-step instructions on how to use all of the services available in our Digital Banking platform, as well as security tips to help you keep your accounts protected. Below you will find some of the more commonly used digital banking items:
e-Alerts

Receive notices about activity on your account directly to your email or via a multi-media message to your cell phone. Choose from alert options such as the low balance alert, payment due date alert and direct deposit alert. There are several e-Alerts to choose from. For information on how to set these up, visit our guide.

e-Statements

Receive your monthly statements online. e-Statements are the quickest, safest and most secure way to receive your statement. To learn how to set up and view your e-Statements, visit our guide.

Money Manager

Get a complete look at your financial picture with this free account aggregation tool. Money Manager will automatically pull the information from your Robins Financial accounts. You will be able to add your accounts at other financial institutions such as credit cards, mortgages, investment accounts, student loans, etc. To learn how to use Money manager, visit our guide.
Make us your one-stop-shop for all your financial needs with our full line of products and services.

Loans & Credit Cards
Borrowing from your credit union is easy and affordable. You can get the money you need quickly and take advantage of flexible terms, competitive rates and convenient service.
Mortgage Loans
When you are buying a new home, refinancing, or building, it is important to make wise choices and deal with a lender you can trust. We have a wide variety of mortgage programs with up to 100% financing*, quick closings, competitive rates, low closing costs, and personal service.
*Some exclusions apply; ask for details.
Commercial Lending
If you are a small business owner, we have a package of financial products and services designed to meet the needs of your business.
Youth Accounts
We want to assist young adults in building a sound financial future. We help them gain first-hand experience managing money and establishing credit.
Rockin' Robin Savings (Ages 0-11)
*Parent/Guardian must be a current Robins Financial member and must be joint on a MyStash account.
Robins Insurance Services
We offer a complete line of insurance solutions, and payments can be automatically deducted from your checking or savings account.
Enjoy a full range of insurance options including: property, vehicle, business, and additional products like pet and travel insurance.
Investment & Retirement Services
We welcome the opportunity to customize and create insurance and investment solutions to help you plan for retirement, protect your assets, and achieve your financial goals. Our professional representatives are available for consultation at no cost or obligation to you.
Portfolio Review
Retirement Planning
Investment Management
401 K Rollover
IRA Transfer
Life Insurance
Trust Services
Traditional & Roth IRA
College Savings Plan
Mutual Funds
Stocks & Bonds
Annuities
Long Term Care
And more
Representatives are registered through, and securities are sold through, CUNA Brokerage Services Inc. (CBSI), member NASD/SIPC, 2000 Heritage Way, Waverly Iowa 50677, toll-free (866) 512-6109. Insurance sold through licensed CUNA Mutual Life Insurance Company Representatives, and in New York, licensed insurance representatives of other companies. Nondeposit investment products are not federally insured, involve investment risk, may lose value and are not obligations of or guaranteed by the credit union. FR030720-001 D